LoveJoy  Botanicals
LoveJoy Botanicals is an herbalist owned + operated company with roots in the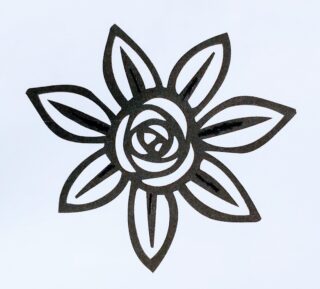 Pacific Northwest and the Piedmont of North Carolina.  For the past 30 years I have allowed spirit to guide me, especially while connecting with the plants. I am blessed with  innate sensitivity and powerful intuition, which manifests in loving + potent herbal remedies.  I truly believe in the healing power of plants, and am dedicated to crafting local, effective, and beautiful earth friendly products. I am deeply honored to offer the purest and most affordable herbal wellness and body care products available. All of my formulations are lovingly hand-made utilizing only the finest quality fresh 'yarden' grown, organic, and/ or wildcrafted botanicals.
 ~Scroll down to shop the available items from my Apothecary~
WILD + LOCAL + ORGANIC  SUSTAINABLE
LoveJoy's mission is to create and provide pure healing herbal products, while nurturing a connection between people and plants.
      ♥ Thank you ever so much for your support ♥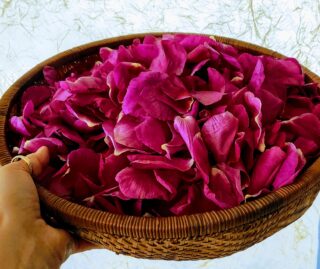 ☼  I lovingly craft your herbal delights by hand  ☼ 
Each herb I work with is included with intention, experience, wisdom, knowledge, and aesthetics in mind. 
My passion and purpose for over 30 years is to connect deeply with the medicinal plants, to listen fully to their stories, and to share their beauty and healing power with my community  ~ I am sweetly grateful to the plants for their love, service, and support.  I offer gratitude to the Indigenous peoples that live in right relationship and reciprocity with the plants and the land. Their generous example is a true inspiration for me ☼
Working with the healing plants is my life's passion. I feel I am a bridge, a conduit, a direct channel for the plants to do their essential healing work. It is with deep gratitude and honor that I continue to nurture their potent and powerful work.  So it is with a humble and honest heart that I reach out to you to offer these beautiful co-created plant remedies.
with the products and quantity you would like~                                                               
Minimum order is $50  
USPS Priority Shipping fee is $8.00

 

                         
I will request payment via PayPal and then ship to you once that is paid.  
~~~ For locals in the Newport, Oregon area I offer Front Porch Pick-Up ~~~
☼  ☼  ☼  ☼  ☼  ☼  ☼  ☼  ☼  ☼  ☼  ☼  ☼ ☼  ☼  ☼  ☼
 Elderberry Wellness Syrup  Powerfully anti-viral~ Prevents respiratory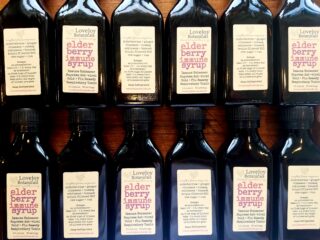 infections as well as prevents and/or shortens duration of illness. No side effects and is safe for pregnancy and children. Crafted from organic Elderberries, Ginger, Cinnamon, Nutmeg, Rosehips, Astragalus, Calendula,  Cane Sugar and Rum      4 oz bottle  $20 
 Echinacea Tincture   Offers deep Immune support + Helps clear infections.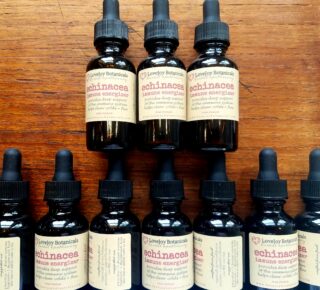 Crafted from my organic 'yarden' grown Echinacea flowers and 75% Rum.   1 oz bottle   $15  
Turmeric Golden Mylk   Immune enhancing +  Anti-Inflammatory + Digestive Aid +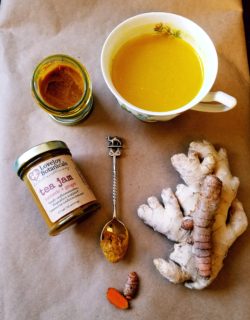 Gentle De-Toxifier +  Anti-Oxidant  are just a few of the many potent healing abilities that turmeric and this product possess. Plus it's super tasty and simple to prepare. Just pour 8 – 10 ozs. hot water or hot mylk of your choice into 1 + tsp. of Supershroom powder, or add to oatmeal, smoothies, or eat it right off a spoon!  Crafted from Raw Honey, and Turmeric + Ginger + Cinnamon + Coconut Milk Powder + Black Pepper.    2.5 oz jar  $15  
Super Shroom Dark Drinking Chocolate   A delicious and healthy beverage. Chocolate is nourishing to the body and the emotional heart. It contains anti-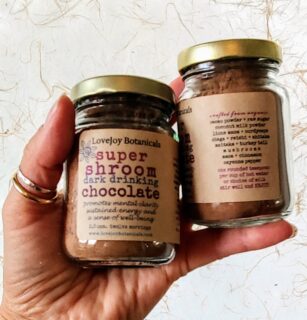 oxidants, theobromine, and minerals like magnesium + potassium. Chocolate also fills receptor sites that make us feel like we are in love ♥ Medicinal Mushrooms have the power to balance us physically and mentally. They contain valuable health preventative properties and are considered useful as alternatives to conventional medicine for treating age related diseases such as Dementia and Alzheimers, and also for treating and preventing Cancers.  Maca is a Peruvian food that helps build sustained energy and is hormone balancing, fertility enhancing, and increases one's sense of well being. For an even richer creamier cup, add hot milk of your choice instead of water.  2.5 oz Jar  $15   
Nutritional Seasoning I created this formulation decades ago as a healthy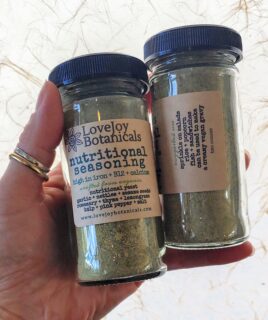 popcorn sprinkle for my daughter and me. We loved having 'Popcorn Nights', and so to make it yummy and healthy we added this Nutritional  Seasoning.  It's also super tasty as a salad sprinkle, on cooked rice or other grains as it makes them creamier and richer! Use it as a breading for pan frying tofu, and/or make a gravy with it. The nutritional yeast contains Iron + Potassium + B12.  The Nettles are full of Vitamin A , Calcium and Iron. The Kelp is high in Calcium, Magnesium + Potassium. Many trace minerals and antioxidants are found in all the herbs.   2oz Jar $15
 Fire Cider  A traditional folk cold and flu remedy + preventative. This herbal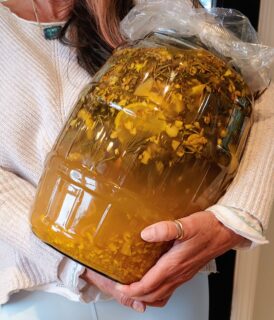 vinegar tonic is a potent remedy packed full of powerful warming + immune enhancing + circulatory herbs and foods.  It is anti-microbial, anti-inflammatory, expectorant, and vasodilating. Wonderful treatment for bronchitis, sinusitis, allergies, digestive infections and poor circulation.  Crafted from Organic ingredients / ACV + Fresh Ginger root + Fresh Turmeric Root + Fresh garlic + Fresh Horseradish + Fresh Onion + Fresh Jalapeno Peppers + Fresh Citrus + Fresh Rosemary, Basil, Oregano and Thyme                    4 oz bottle  $20
Ginger Elixir  Supports the Immune + Respiratory + Digestive Systems~ Super tasty! Can be taken as is or made into a comforting toddy. Crafted from Organic Ginger, Brandy + Honey.  4 oz bottle  $20 
Lavender Elixir   Lovingly handcrafted from fresh sweet lavender blossoms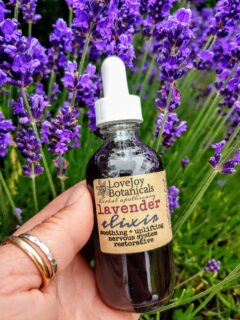 that bloom abundantly in my coastal 'yarden', this sweet calming remedy is just what the Herbalist ordered!  Calming + Centering ~ Soothing + Uplifting ~ Nervous System Restorative ~ Lavender is both stimulating and relaxing at the same time. ( Relaxing to the Nervous System while stimulating/uplifting to the spirit ) She is one of the best known herbs for uplifting mood, and is a wonderful herb to have in the garden for her lovely scent.  Lavender is known for reducing anxiety, and is helpful for those with insomnia and tension due to stress.  Lavender can also be useful as a pain reliever for folks with tension headaches or migraines. Lavender helps relax spasms, improves digestion, and is useful for those who are wound up tight. For those who feel sad, frustrated and anxious, lavender is naturally anti-depressant. I carry a bottle with me and find taking a dropperful when feeling fearful, stressed or anxious truly helps my body and soul to relax.   2 oz. bottle  $ 25                                                 Contraindications ~ Avoid during pregnancy                                                
Wild Rose Elixir  Rose is one of the oldest plant medicines known to humankind. She has been revered, consumed and made into medicine for thousands of years. She is the symbol of the divine feminine and is a messenger of joy, beauty and vitality. Rose has one of the highest vibrations of all flowers, and she gently yet profoundly opens the heart. She encourages contentment by calming the nerves and welcomes feelings of divine love and bliss into your body, heart and soul.  Rose is a gentle sedative, yet she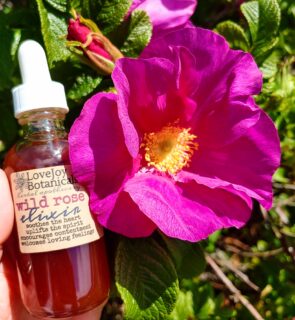 rejuvenates and uplifts the spirit. Essential medicine for anyone with heartache, grief, sadness, depression or lack of self-connectedness, Rose eases painful memories of the past and repairs those battered places in the heart.  She restores the light within us and creates a sense of balance, harmony and well-being.   Lovely for easing stress and soothing nerves. Rose is grounding for those who are out of their element or experiencing acute fear. Rose medicine is deep sweet and powerful ~ She reaches the most hardened parts of our hearts and offers her soft healing. She soothes and invites in love, sweetness, and kindness. Wild Rose medicine expands our capacity for compassion and invites us to acknowledge the power that is possible when we lead with love. ~ Crafted from wild foraged rose petals, brandy, local raw honey, and rose quartz crystals.   2 oz bottle  $25
Digestive Bitters   Largely eliminated from our modern diet, bitters are a cornerstone of traditional eating. They tend the digestive fire, support the liver and help increase the elimination of toxins. Bitters also increase the assimilation of nutrients, and reduce sugar cravings. They are even known to help alleviate depression.  1 oz bottle  $15   Contraindications ~ Avoid during pregnancy          
Chillax ~ Herbal Rescue Remedy  ~ Calms + soothes stress and anxiety. Not always taking it away  entirely, yet calming and comforting enough to better face the challenges at hand. Crafted from fresh organically grown and/or wildcrafted plants. This synergistic blend elevates and allows you to see the sparkle within and without~ Contains Lemon Balm + Tulsi Basil + Wild Roses + Blue Vervain + Lilacs + Lavender + Rum + Honey   1 oz bottle  $15   
Sweet Sleep ~ Settle in for a sweet night's sleep with this gently sedative + relaxing blend of nervine herbs to calm the body and quiet the mind~ California Poppy is lovely to bring on drowsiness while Passionflower + Skullcap slow rapid + repetitive thoughts that are common in undesired wakefulness. Lavender + Poppy can lessen acute or chronic musculoskeletal discomfort, allowing relaxation and sleep. Lemon Balm, Rose + Peach leaf all add to the sweet comfort in this blend.   1oz bottle  $15  OUT OF STOCK
C B D Tea   Promotes health, healing and relaxation. Improves mood, reduces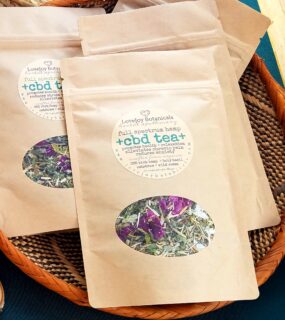 stress and anxiety, and alleviates pain. Crafted from all Organic plants of: High C B D Hemp + Milky Oats + Tulsi Basil + Wild Roses.   1 oz bag $15  / 10 + cups  Contraindications ~ Avoid during pregnancy + breastfeeding
C B D Elixir 
Promotes health, healing and relaxation. Improves mood, reduces stress and anxiety, alleviates pain. Crafted from organic Whole Plant High C B D Hemp Flower Buds, Brandy + Honey. Effective Fast relief~
1 oz bottle  $25  
Contraindications ~ Avoid during pregnancy + breastfeeding
C B D Tincture
Promotes health, healing and relaxation. Alleviates pain, improves mood, reduces stress and anxiety. Crafted from organic Whole Plant High C B D Hemp Flower Buds and Puerto Rican 151 Rum.        Effective Fast Relief~ 
1 oz bottle  $25
Contraindications ~ Avoid during pregnancy + breastfeeding
Whole Plant CBD Pain Heal Balm
 An incredibly potent
synergistic blend of  four herbs that target pain and inflammation.  Excellent for arthritis + nerve pain, acute or chronic injuries, pulled muscles + spasms, cramps + general aches.  Crafted from organic high full spectrum CBD Hemp + Comfrey + Eucalyptus + St. Johns Wort  1 oz  Tin $20
Whole Plant CBD Pain Heal Massage Oil 
An incredibly potent
synergistic blend of four herbs that target pain and inflammation.  Excellent for arthritis + nerve pain, acute or chronic injuries, pulled muscles + spasms, cramps + general aches.  Crafted from organic high full spectrum CBD Hemp + Comfrey + Eucalyptus + St. Johns Wort 
1 oz green glass pump bottle $25
Herbal Smoke Mix
S
moking creates a calm atmosphere  that allows for mindful listening and for magic to unfold~ Smoking this particular herbal blend is relaxing and uplifting. There is good reason why cultures all around the world burn and smoke aromatic plants! The inhalation of smoke is a rapid and effective means of introducing the plant's gifts to the body. Problems with the digestive system, musculature, headaches, inflammation and immune system afflictions have all been treated with inhalation of plant smoke~ For over 5000 years, people have been using smokable herbs in spiritual, therapeutic & medicinal ceremonies. My sacred healing blend continues this tradition, and contains no synthetic ingredients or tobacco – only organic Oregon grown hemp, organic + wild herbs + botanicals ~ Crafted around grounding, calming, and encouraging an open heart with
hemp that contains <0.3% THC  + damiana + mullein + wild roses + uva ursi + yarden grown white sage 
1/2 oz
Tin  $15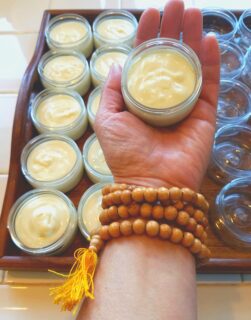 Crafted from whole plant infused organic oils, aloe gels, and witch hazels, this Cream is super nourishing and restoring
to face, neck and hands. This ultra rich and luscious cream is full of flower power! 
Naturally anti-bacterial, anti-inflammatory, and vulnerary
( wound healing ) this cream will give your skin a youthful sunny glow ~
1.5 oz jar $20  Lavender Rose 
RoseJoy Uplifting Skin Balm
For years now I have been
potentizing my Wild
Rose remedies with Rose Quartz. The synergistic healing that is produced with Wild Rose + Rose Quartz is hard to put into words, yet definitely can be felt.  This precious intoxicating balm was handcrafted with fresh plant + flower infused organic oils to nourish both your energetic heart and your skin ~ Dab a bit over your heart center to relieve nervous tension and to uplift mood ~ use a small amount as a rejuvenating face + neck balm that will leave your skin feeling silky smooth ~ rose is joy incarnate~ she opens us to the sweetness of life and supports our personal growth~ she helps us resonate with our spirit and our wholeness ~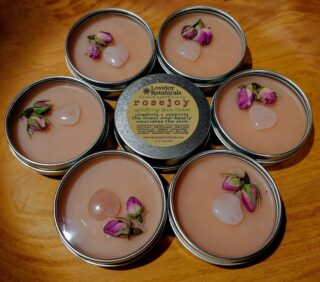 softener and protector of hearts, soother of worry and anxiety, opener of the heart center, rose helps us reunite with our heart's song ~ it is truly my delight to share this rosey sweet balm with you~ 

HOW TO USE: Apply to clean face + neck + any other lovely areas 1-2 times a day. Gently massage into skin in light circular motions ☼ The heart shaped Rose Quartz is a reminder of the Universal Love available to us, and the peace + harmony that can result in our lives when we love ourselves + others ♥

 
1.5 oz tin $25
SunJoy Revitalizing Skin Balm
Let this golden pot of sunshine help your inner + outer beauty shine ☼  Specially formulated for sun lovers + worshipers, the Calendula + Chamomile infused organic oils repair sun damage, brighten dark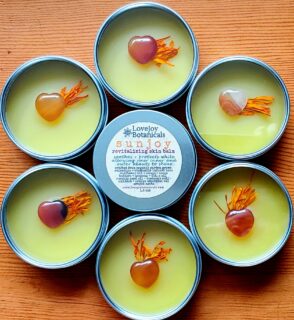 spots, soothe sunburns, and improve overall skin health and tone ☼ These blossoms have been used for centuries for skin challenges. Anti-inflammatory, Antimicrobial and Antifungal properties make SUNJOY useful for treating minor wounds, cuts, scrapes, rashes, burns, acne, and other minor skin irritations. SUNJOY also stimulates the production of collagen which helps minimize scarring. HOW TO USE: Apply to clean face or challenged skin area 1-2 times a day. Gently massage into skin in light circular motions ☼ The heart shaped  Agate amplifies positive vibrations.
1.5 oz tin $25
Wild Seaweed Sylk Moisture Balm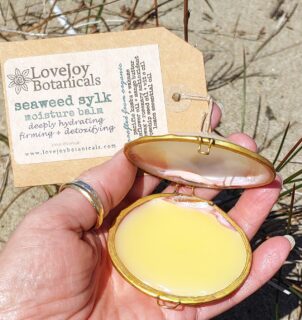 Crafted from wild seaweed, this herbal delight deeply hydrates while encouraging soft and radiant skin. Seaweed stimulates collagen production and helps to reduce hyperpigmentation. Generously massage into damp or dry face and neck to achieve the rush of natural antioxidant rich hydration that can nourish and firm your skin.  Can also be applied over tattoos to increase vibrancy.  1.5oz Hinged Shell  $30
Lavender Lotion Bar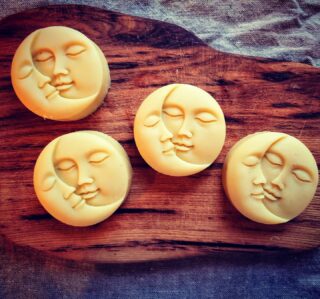 Utilizing fresh lavender blossoms lovingly harvested from my organic pacifica 'yarden', infused in organic oil for a full moon cycle, these lotion bars offer deep healing + long lasting protection. They can calm + soothe virtually any skin challenge and naturally nourish and replenish your skin too.   ☼   2 oz  in clear top tin $20 OUT OF STOCK
Wild Rose Facial Tonic  + Wild Rose Facial Serum   Purely crafted from wild  roses, these botanical products are designed to be used together to encourage soft radiant skin, while nurturing the emotional heart. Topically, Rose rejuvenates, hydrates, balances skin tone, nourishes and enhances skin health, calms irritation, reduces inflammation, and in doing so, slows the aging process. The benefits you receive from adding these botanical delights into your skin care regime will be more than skin deep. Rose can uplift your feelings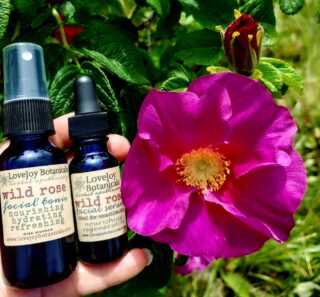 of self-worth and enhance your emotional comfort. These  products can be used for other challenged skin areas also; burns, rashes, wounds,  etc…   
Wild Rose Facial Tonic is crafted from Wild Rose Blossom ( Rosa rugosa ) infused Organic Aloe Gel + Wild Rose Flower Water + Wild Rose infused Witch Hazel + Wild Rose Flower Essence  packaged in   1 oz Glass Spray Bottle  $15 
Wild Rose Facial Serum is crafted from Wild Rose Blossom( Rosa rugosa ) infused Organic Jojoba + Sunflower Oil +  Rose Hip Seed Oil + Vitamin E Oil packaged in  1/2 oz Glass Dropper Bottle  $15
Bouquet Balm
Crafted from wild roses and vanilla beans infused in organic sunflower oil, this beautiful oil balm is convenient to pop in your purse and easy to roll on your pulse points, or other favorite spots to create harmony and inner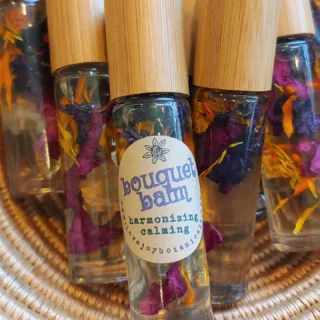 warmth whenever you desire~ Quartz crystal enhanced to allow for realignment of your energy. Just a touch of Ylang ylang essential oil is added for a calming and relaxing synergistic effect. The earthy sweet aroma will be sure to bring you pleasure ~ The bottle also contains dried wild roses + calendula + lilacs + quartz crystal ~
 Roller bottle $20
Wild Weed Skin Healing Balm   
This super quick healing herbal salve is one I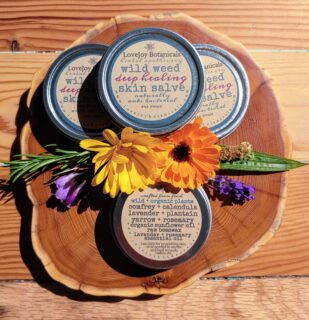 carry with me everywhere. It is anti-bacterial + anti-fungal and can be used safely anywhere on the body. The herbs deeply nourish the skin while healing it too. Comfrey leaf is a mainstay in my skin products. She is a vulnerary, which means she speeds the healing process ( more than any other herb I know! )  Calendula is another mainstay herb for my skin care products as she is also a vulnerary and is anti-inflammatory, anti-bacterial and anti fungal. Plantain is anti-septic and can draw out infection while healing. Lavender, Yarrow and Rosemary are all around super skin healing herbs, and like all the others are safe for use on all skins. Combined together,  these herbs create a potent skin salve that will help to heal topical: cuts, rashes, blisters, fungus, blemishes, bruises, swelling, scars, abrasions, dry itchy cracked skin, eczema, psoriasis, wounds, insect bites etc….  1 oz Tin $15 
Tension Tamer Roll-On 
 Naturally relieves stress, anxiety and headaches. Simply roll on to wrists, shoulders, temples or back of neck to relieve tension.  Crafted from organic witch hazel + aloe vera + rose flower water and a
proprietary blend of essential oils  1/3oz roller bottles  $15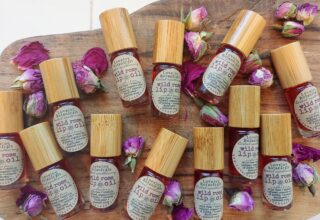 Wild Rose Lip Oil  Nourishing + Hydrating + Softening ~ Crafted from wild rose + vanilla infused organic oils of jojoba + sunflower + alkanet root to impart the lovely color~  5 ml glass roller bottle $15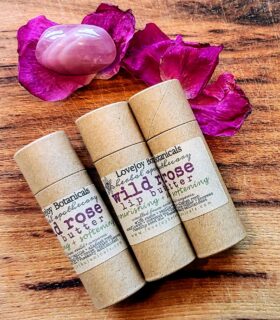 Wild Rose Lip Butter Nourishing +  Hydrating + Softening ~ Crafted from fresh wild roses + comfrey + vanilla infused in organic sunflower oil with cocoa butter +  beeswax + rosehip seed oil + rosemary antioxidant + alkanet root for just a tinge of rosy color
1/2 oz paper board tube $10
Sunny Comfort Lip Butter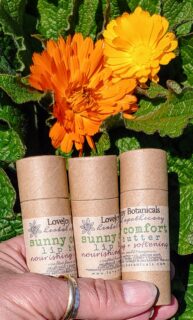 Nourishing +  Hydrating + Softening ~ Crafted from fresh yarden grown calendula + comfrey + st. johns wort infused in organic sunflower oil, with cocoa butter + beeswax + rosemary anti-oxidant plus a touch of sweet orange + coriander essential oils
1/2 oz paper board tube $10
Minimum order is $50
plus $8.00 for USPS Priority Shipping.
For locals in the Newport, Oregon area I  offer Front Porch Pick-Up
With much love and intentions for continued strength + Immunity!
---
---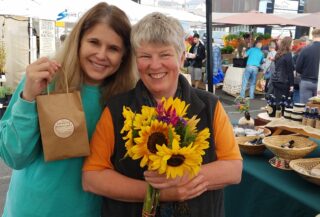 Come see us year round at the: Newport Farmers Market 
Saturdays from 9 am – 1 pm  
http://www.newportfarmersmarket.org/
Yachats Summer Market 
Sundays 9am – 2 pm (May – Oct.)
https://yachatsfarmersmarket.webs.com/