Herbal Pop-Up Bundles contain herbal products that I have lovingly crafted from wild and/or organically cultivated plants. A detailed product sheet with educational information, recipes and/or ideas, is included with each bundle.
Thank you so much for your trust in me and the plants that I am blessed and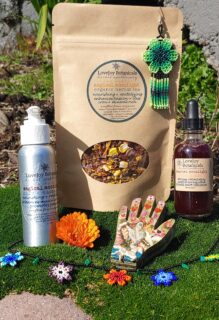 delighted to work and play with~   I am truly honored to share my knowledge,  wisdom, and creative gifts with you and your loved ones. The magical mexican moonlight collection is my 31st Herb Bundle ♥  This collection is sure to delight and uplift!
☼ SOLD OUT ☼
Please contact me if you want or need more info. [email protected]
I thank you for your interest and support~